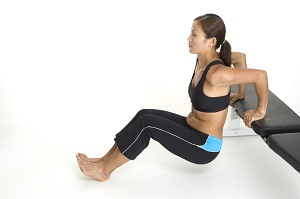 Are you embarrassed by the way your arms look? Do you have that extra piece of skin under your arm that flaps when you wave? The female body is highly vulnerable to sagging because fat is deposited in the female body in three areas; the tummy, buttocks and the back of the arms. It's time to get a great arm workout to remove that annoying double wave.
Tricep workouts will focus on that problem area. The triceps are the muscles that are on the back of the arm and this is the area that most women (and men) want to tighten. There are many different exercises to work the triceps, including anything that causes you to straighten your arm or push to extend your arm. Push ups, dips, tricep extensions, and tricep pushdowns are all great exercises to work the triceps. Here are some great exercises to help tone the troublesome spot.
Close Grip Push Ups
A great way to train your triceps at home or even on vacation is with close grip push ups. They are similar to regular push ups, except your hands are close together. If you have trouble performing these or standard push ups, try them with your knees touching the floor, or even standing while pushing on a wall. The further away that you are from the wall, the more resistance there will be. Don't be afraid to do these wall type of push ups at first until your strength increases. Once you do them consistently for a while, you will soon be able to do them from your knees, and then eventually full close grip push ups.
Resistance Band Tricep Extensions
Tricep extensions are another great exercise and they work the triceps in a different way than what push ups do. Get a band that has an amount of tension that you can comfortably do around ten reps with. You can stand on the center of the band and have one of the handles in each hand. Extend your arms up alongside your head with the elbows pointing up and your arms bent. Keep your elbows up and do not move your arms at the shoulder joint. Extend your arms by straightening them at the elbows and keeping the shoulder joint locked. You should be able to feel the tension in your triceps or the back of the arm. Do your reps slowly and controlled at all times, pausing slightly at the top or lockout position.
Triceps Kickbacks
Stand straight next to a bench or a paddled chair. Place one arm and one leg folded on the bench. Your upper body will be bent over so it is parallel with the ground. Hold a dumbbell (or weighted object). Raise your elbow so your upper arm is also straight (parallel) to the ground while the other arm is supporting the weight of your body. The elbow must be at a right angle. Repeat for several repetitions. Switch over to the other arm.
Flabby arms are a curse restricted mainly to women. Men gather fat in their biceps, but for women it's all in the triceps, and after a certain age, no matter how thin a woman may be, they inevitably get saggy arms. Ladies, don't be afraid to build up your arms. Women lack the testosterone that causes triceps and biceps to bulk up. Instead women get fine toning and light definition in their arms. The list above are just some of the simpler arm toning exercises you can do. There are many more, both cardio and resistance that will help tone your upper arms. Talk to your trainer to set up the right workout for you to get the desired outcome you are looking for. Combined with a healthy diet and workout routine, you'll get rid of that embarrassing excess wave and get the sexy arms you have always wanted.
…
to read the entire article go to http://sacrossfit.lifestyleezine.com