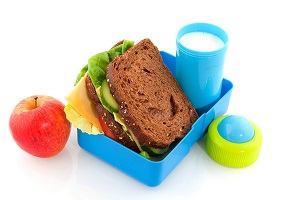 The first step towards preparing a healthy lunch that your kids will actually eat, is knowing what they like. Pick out their favourite fruits, vegetables and dipping sauces. Kids love to dip stuff and if they get a sauce they really love, they might be more likely to eat their fruit and vegetables. The five food groups which should be included in every lunch box included are protein, whole grain, fruit, vegetables, and calcium rich dairy. Try these tips to a successful, healthy lunch:
Know the rules. Be mindful of school policies regarding food and waste. Many classrooms are "nut free" due to potential allergies. A growing number of schools are becoming "waste free", so pack wisely – reuse!
Let your child choose their lunch box or bag. Give option of those that are safe and allow them to pick. Children are more excited when they are proud of their lunch boxes and are also more likely to remember to bring it home.
Ask your child what they like in their lunch. Take them shopping with you and let them choose the fruit, meat, spreads, snacks they like. Sit with your child and plan the week ahead.
Stock and organize the refrigerator and pantry with healthy options. Be sure to have a variety of fresh fruit and veggies, whole grain breads, healthy spreads, cheeses, and drinks that you can choose quickly.
Read labels. Some prepackaged foods are better than others. Items such as cheese sticks and unsweetened applesauce are quick healthy items. Stay away from the unhealthy ingredients such as trans fats and high fructose corn syrups.
Don't stick to traditional sandwiches for every lunch. Wraps and leftovers can be a nice change of pace.
Dessert doesn't have to mean sugar. Berries, granola bars, homemade squares and cookies are always a better choice than store bought.
Try this yummy recipe for an easy, healthy lunch option.
Feta Chicken Roll Ups
1 grilled or baked chicken breast
1 whole wheat tortilla
Shredded lettuce
Feta cheese
Creamy low-fat Greek dressing
Spinach
Cherry tomatoes
Spread a very thin layer of creamy Greek dressing over the entire tortilla and then spread the shredded lettuce over the dressing.
Next pile on the cheese.
Cut up the chicken breast and lay it on top of the other ingredients. Don't pack the tortilla too full of ingredients, or it won't roll up tightly, which will be a messy experience all round.
Roll the tortilla up and cut into about 5 pieces. Then slice the cherry tomatoes in half.
Arrange the plate by placing the roll ups in the centre, in a circle shape, surrounded by the cherry tomatoes. You can add some creamy low-fat Greek or Ranch dressing for extra dipping.

As parents, it's our job to provide our children with healthy, wholesome lunches that will fuel them through the long afternoon hours at school. Use the ideas above to get you and your kids on the right healthy track!

…

to read the entire article go to http://sacrossfit.lifestyleezine.com