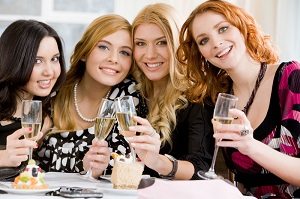 Sometimes you just need to get out. And what is better than a night out with your best girlfriends? Whether you're studying at university or working hard in a company throughout the week, regardless of your age and interests, one of the best stress relievers for women is a girls' night out. A fun night out can take off the pressure of the mundane and lift your spirits. What makes these evenings out so special is the relationships built between you and your friends, the need to break loose from everyday life and have fun.
Women are constantly searching for something new and different to do for a great girls night out that doesn't always involve a bar or a highly overrated movie. When you consider the fact that most women have different tastes in books and poetry, book readings or signings are often very hit or miss, physical activity takes some of the fun out of things, and dancing inevitably leaves an odd girl out. Dinner is a great idea, but often is over far too soon.
Here are some ideas for fun and different girl's night out.
Paint Your Own Pottery Shop – enjoy an evening of painting, laughing, joking and dishing with your friends.
Relaxing Time – if you and your friends usually have tight, busy schedules with hardly any time for yourselves as you shuttle between responsibilities at the office, at home and as a mother, a relaxing night out is what everyone craves. Plan for a mini massage, facials or for manicures and pedicures.
Bowling – This is an old idea that is definitely enjoyed by many. It's something different and fun. Usually gets a laugh or two as well.
Try a New Hobby – Plan a cooking session, jewelry making class or cake decorating class. It's useful and a great time doing something different with your girlfriends.
There are healthy benefits of female bonding. A study by Australian researchers found that female friendship wasn't just good for the soul; it's good for your health. Researchers concluded that the presence of good friends in a woman's life increased life expectancy. Researchers in California concluded that girlfriends are stress-busters for women and have an impact on overall mood. It seems that when we're around friends, the mood-elevating hormone oxytocin is released, increasing feeling of euphoria. Women with abundant friendships decrease their risk of illness and not having regular contact with girlfriends was as detrimental to her health as smoking or packing on pounds.
Now that you know the importance of having regular girl's night out and have a bunch of ideas to make your girl's night out fun, get to planning your next get togethert. Send out an evite to your girlfriends, and catch up, relax, and de-stress.
…
to read the entire article go to http://sacrossfit.lifestyleezine.com