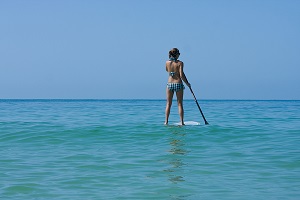 What is paddleboard yoga? A paddleboard is like an oversized surfboard. It's used for paddling across the water. Paddleboard yoga is a combination of yoga and stand-up paddleboarding. The board becomes your "moving" yoga mat. Adding the elements of water and sometimes wind to the practice of yoga offers a new challenge to finding ease and strength in every pose.
Paddleboarding is one of the best core workouts you can find. From paddler's toes to their head, practically every muscle in the body is being used. Because a major component of stand up paddleboarding is balance, the feet and legs are working hard to keep the board (and you) balanced and sturdy. The paddler's core abdominal and back muscles get a fantastic workout.
Another benefit that comes with stand up paddleboarding is that the sport is super low impact. If an athlete is struggling because of joint or muscle pain running or doing other exercises at the gym, paddleboarding can really help.
Doing yoga on a paddleboard provides an extra balance dimension, which can be an extra bit of fun and challenge for those "seasoned" yogis. What might be the best benefit of doing yoga on a stand up paddleboard is the view. Being able to take in the water and relax in the sun adds a really nice experience to yoga that someone could not get in a gym studio.
All yoga poses can be achieved on the board, with practice. For anyone feeling a little timid, keep a low centre of gravity, it's the best way to start and you can work your way up from there.
Top Benefits to Paddleboard Yoga:
Helps your balance
It makes you focus more
Helps improve your posture
It is calming
Builds strength in your core – an excellent core workout
A great exercise that can be done outdoors with beautiful scenery
Paddleboard yoga is for everyone, from 8 to 98 years old. You don't have to be good at yoga, you can be injured, disabled, overweight – if you can sit on a board, you can do it. The added benefits to paddleboarding such as exercise, fun, exploration and enjoying nature can be immeasurable.
…
to read the entire article go to http://sacrossfit.lifestyleezine.com