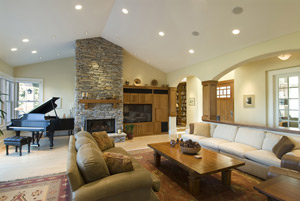 Today's families have busy schedules and most days are long and hectic. There's no denying that time is tight and, as the cost of raising a family continues to climb, money is often tighter. When it comes to interior design and décor, these trends are driving a whole new approach, with a focus on function, feeling and fun.
You want to update your space, but you need to make sure it's practical and functional for your needs. You also need to make sure you're happy with how it makes you feel after a long busy day. Most of all, it needs to be fun and inviting so that everyone will want to spend time there.
Make it functional
Gone are the days of the picture-perfect formal living room that's only used on holidays and other special occasions. Today's families are more practical, and decorating a room that isn't used would never make it into most budgets. Whether it's a family room that's also a home office, a kitchen with a homework space or a bedroom shared by two or more children, most spaces need to serve multiple functions.
Before you redo any family space in your home, sit down and make a list of everything you'll do in the new space. You may not be able to completely accommodate everyone's needs, but you'll have a better idea of where to start, and it will keep you from being disappointed with the outcome.
It should feel good to be home
It's not easy to relax after a busy day when your house feels cluttered and chaotic. One you decide how the room will be used, be sure to incorporate appropriate storage and work spaces so that everything has its place at the end of
the day.
You should also plan for soft, comfortable furniture so you have a place to sit and enjoy the feeling of your new, neat and tidy space.
Invite the fun
Every family is unique, so when you're planning a space for the whole family to use, be sure to incorporate fun and expressive elements that really express who you are as a family and individually.
If your family loves spending time at the beach, you could use light, airy colors and cottage-style design elements to recreate a beachy feel. If sports are what brings your family together, a set of metal gym lockers would make a great place to store backpacks, briefcases or sports equipment. You could also preserve your memories by covering an old coffee table with ticket stubs and photos from games you've attended.
…
to read the entire article go to http://sacrossfit.lifestyleezine.com