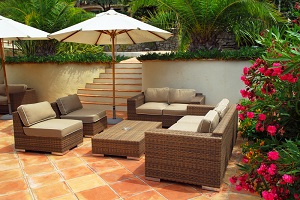 What better way to unwind from a busy day at work or being out with the kids, then to step outside to your backyard (front yard or balcony) oasis? Your own little comfortable space that allows you to feel relaxed and calm can be a great benefit to you. It's a chance for a mini vacation, just steps away from your living room.
Decorating your outdoor space is as important as decorating your interior space. It requires just as much structure as an indoor space would. Like your interior space, the first thing you must determine is the color scheme for your outdoor space. You may want to consider making your outdoor space seem like an extension of your home interior décor. This can be accomplished by continuing with the same color palette as you did indoors.
Once your color scheme is determined, it is important to determine the primary functions of your outdoor space. You need to decide on what elements you would like to incorporate into your space. From there, you can decide on the furniture that will fit your theme and that you will find comfortable in your space.
There are some great ways to bring a little vacation oasis to your own yard. Maybe one of these ideas suits you.
The Bistro: Just two chairs and a table, a great book and maybe a nice glass of wine. Accessorize it with a few candles and if you have the room, a lush garden.
Hang patio drapes: Your porch will feel like a summer getaway with outdoor panel curtains. Hang a wire between two posts and drape them over.
Outdoor dining: When the weather is beautiful, you can dine out(side) anytime. Weather-resistant furniture such as teak or cast iron make great outdoor tables. Have a pergola or trellis? Hang chandeliers, lanterns.
Copa Cabana: Nothing evokes a vacation more than a cabana. Inside, scatter lanterns, maybe even add some floor pillows to get more comfortable.
Beach Chaise: Get a comfortable outdoor cushioned chaise and matching umbrella in a wonderful pattern or vivid colors.
Outdoor living room: There are many great options of outdoor chairs, couches and loveseats. A great way to enjoy an outdoor experience. Add in a fire pot or fire pit for a cozy night "out".
An outdoor oasis can extend your living space – bringing the comfort of the indoors to the outdoors – all while taking you away from it all. With the perfect furniture, plants and equipment that suit you, you'll have a mini-vacation, right in your own backyard.
…
to read the entire article go to http://sacrossfit.lifestyleezine.com